Meowy Christmas: Holiday Decorating for Your Cat!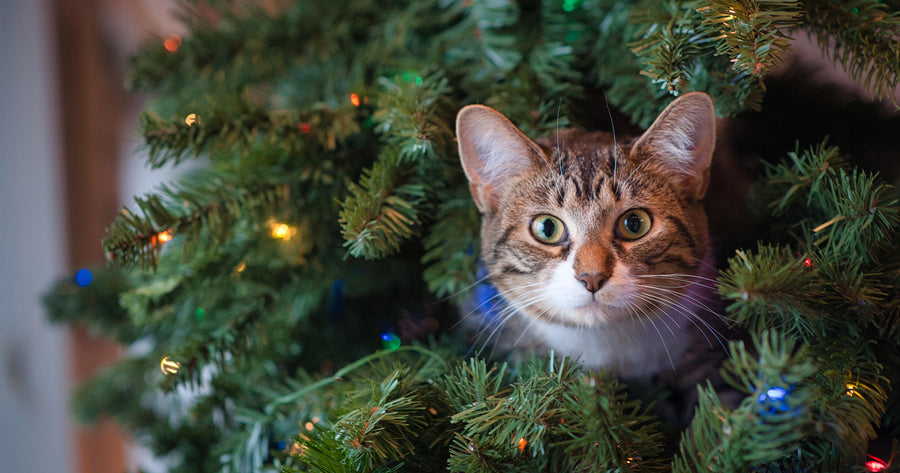 ---
'Tis the season to be Molly. It's our favorite time of year and we can't wait to spend the holidays together with our pet parents. You guessed it, it's Molly here—the On2Pets Product Tester in Chief here to spread joy to cats everywhere. Everyone knows that us cats love winter because our family is home for the holidays! That means more time for play, fun, and food, of course. So let's deck the halls just right for paws. Here's how to decorate your home with your cat in mind.
Rockin' Around the Christmas Tree
Christmas trees can be a challenge with curious cats. Our solution? The On2Pets Cat Tree. Us cats are very territorial, so once we recognize that we have a tree of our own, we forget all about your tree. It may take some training to get your pet used to their tree, so remember to keep your Christmas tree secure in an upright position with a tight-fitting tree skirt as a precaution.
Tinsel, Ornaments, and Bows, Oh My!
New, shiny objects can be distracting and destructive. Have no fear—keep ornaments, lights, garland, tinsel, and ribbons out of reach or out of sight to keep your furry friend safe. These items can cause serious health problems if ingested!
Making Spirits Bright in Candlelight
During Hannukah and even Christmas, be mindful of any candles lit near your cat's area. Place your Menorah and other seasonal candles away from your pet's reach so that they can't potentially start a fire. Swap out the live flame for a battery-powered effect or keep watch of any candles while lit.
We hope that your holiday at home is merry and bright. Take this time to give some extra love to your pet. Maybe add some treats in their stocking. I, for one, could use some catnip—I've been good this year! Just don't check the list twice.
Love, Molly