Top 10 Most Frequently Asked Questions about our Cat Furniture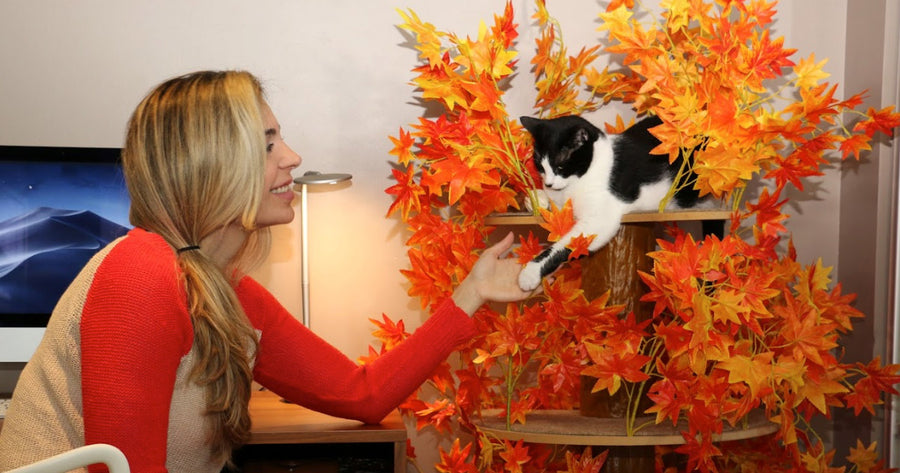 ---
At On2Pets, we believe our products should be a part of your everyday life. Nothing brings our team more joy than producing novelty furniture that enriches your cat's environment while being 100% toxic free and pet safe.
We get asked hundreds of questions each day, so we decided to put together a list of our top 10 most asked questions below.
What is the On2Pets tree made of?
The On2Pets tree offers different materials to engage your cat's senses, including non-toxic silk leave for that "outdoor" experience, artificial turf on the base, and carpeting on each level.
Will any of your products or materials used to manufacture On2Pets products harm my cat?
Every raw material, hardware, and manufacturing component that is utilized in our production processes has been carefully vetted and sourced from responsible suppliers around the globe that adhere to our high quality control standards ensuring the safety and wellbeing of your cat.
How large is each tree?
The On2Pets tree comes in three sizes, small, medium, and large. The small tree measures 24" wide by 24" tall; the medium tree 24" wide by 48" tall; and the large tree 24" wide by 60" tall. 
What colors are the On2Pets tree offered in?
Our trees are currently offered in four different varieties to match the seasons. The Evergreen is our most popular, followed by Summer (orange & green), Fall (yellow & orange), and Plum Autumn (red & purple).
How can I clean my tree?
A weekly dusting and monthly cleaning session, including vacuuming the base works extremely well. We also suggest taking a damp cloth with soap and water to spot clean where needed.
How long does it take to assemble an On2Pets tree?
The On2Pets tree only takes a few minutes to put together. You can view our assembly video here: https://bit.ly/32YJicl
Where are the On2Pets products made?
On2Pets prides itself on handcraft small batches of all-natural, durable, long-lasting pet furniture in our U.S. based factory in sunny Florida. Under close supervision from our Chief Cat in Charge, Molly, we're here to deliver quality innovative designs inspired by our beloved customers and feline friends.
What is the weight limit for the On2Pets tree?
Our novel, modular patented design comfortably holds cats up to 32lbs. The On2Pets tree also has a reinforced central structure that provides a sturdy and safe environment for your cats to lounge, play, and entertain themselves. Although tested to handle 50lbs, we recommend not exceeding the 32lb weight limit for safety reasons.
How can I help my cat adapt to the tree?
The best way to introduce our trees to your favorite feline is to give him or her enough space and privacy with the tree. Cats can be timid when they encounter new dwelling places or lounging sports. We also encourage using their favorite treats in order to attract and incentivize them to explore the cat furniture calmly and at their own pace. If treats are not appealing to your cats, you can try putting their food bowl on the highest perch of the tree as well. Some of our customers have also used their cat's favorite toys as a teaser. Bringing enjoyment and recreation to your pet can help the adaptation process with the tree be seamless.
What can I do to collaborate/partner with On2Pets?
We're always looking for collaborations and partnerships with shelters and adoption centers (#adoptdontshop).Please send all requests to sales@on2pets.com
As always, our team is here to help! If you don't see your question answered here please check out our FAQ page, or email
support@on2pets.com