A VERY MEOWY DECEMBER! MOLLY'S GIFT IDEAS FOR CAT LOVERS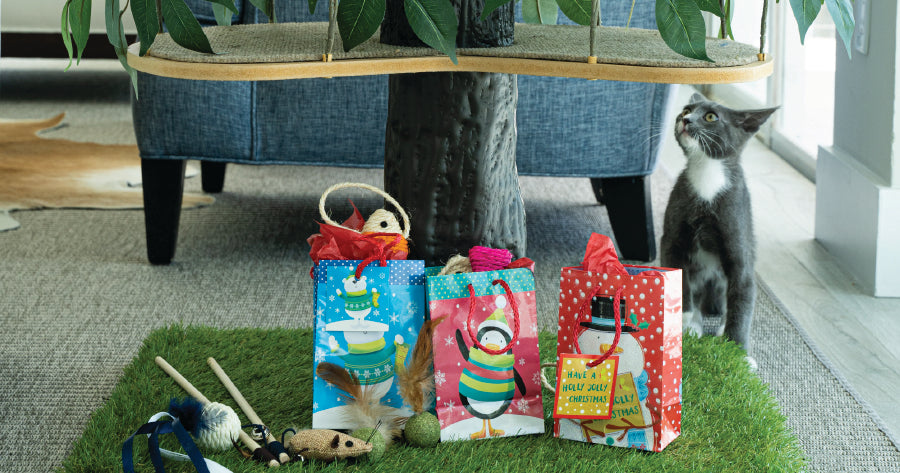 ---
Brrr...It's cold out. Don't get frost-kitten! It's Molly again wishing you a beautiful December. Though the holidays (or as I call them, the pawlidays) are supposed to be full of cheer, they tend to also be full of stress. Most of that stress comes from all the gift buying. Like, what's the best gift for your mom, dad, or your glamourpuss sister? It can leave anyone simply purrplexed! But I am here to help you out, at least a little bit. I have a list of the best holiday gifts for any cat lover in your life. Just call me Santa Claws!
1. A Cat Tree

Boring cat structures are so last year. If you know a cat person who doesn't have an On2Pets Cat Tree, maybe it's time to surprise them with one! Cat trees are a gift for both the cat and their human because the foliage is soooo chic and complements any style of home.
2. An Interactive Cat Toy

What does every cat owner love? More time playing with their cat! That's why an interactive cat toy is a furbulous present. Check out my On2Pets Interactive Cat Toy Collection. There you'll find a bunch of Molly-approved cat toys that will make any cat parent smile.
3. A Painting Of Their Pet
Every cat deserves to live furever through a painted portrait. Hello - we're icons! A simple internet search for "custom pet portrait" will lead you to tons of sites that turn photographs into paintings. Snag a photo from that cat lover's social media and send it through the site. It's a very personal gift that would make Picatso proud.
4. Home Accessories - With Cats On Them!
The pawsibilities are endless! Go into any cat lover's home and I'd be willing to bet my tail that they've got items like mugs, pillows, or totes with cats on them. Why? Because cats are the cutest (I mean, look at me!). And for cat parents, it never gets old. Head over to Etsy and search "cat." You will find so many cat-egories of cat-inspired gifts.
5. Cat Pawjamas
I can't explain it, but every cat parent loves to be cozy. It's like it's in their DNA or something! And cats love snuggling up to their humans on a cold winter's morning while they are still in their pawjamas. That's why a snuggly bedtime set with a cute cat design makes for an epic present. Ok, I have some shopping to do. I hope everyone has a Meowy Chrismahanukwanzakah - or whatever you celebrate!
Molly out!