4 TIPS FOR INTRODUCING YOUR FELINE FRIEND TO A CHILD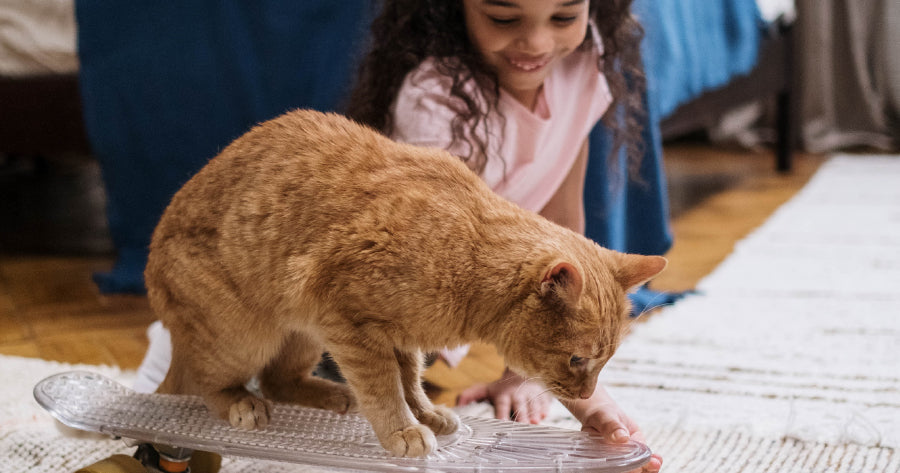 ---
Hello furr-iends, Molly here, I know it can be difficult to introduce someone new to the house. With my advice, you'll have nothing to worry about — except having to clean the litter box, of course.
Let me start by saying that I understand children can occasionally be rough and clumsy when it comes to us cats. It's no secret we are very sensitive creatures. That's why setting the scene for this encounter can mark the future of the bond that's being created. Follow these tips so that your experience is as positive, safe, and smooth as possible for everyone involved.
Tip 1: Starting with the purr-fect setting.
Start by creating the purr-fect sanctuary that sets the mood with the purr-fect ambiance for both your cat and your child. A place where both will feel comfortable enough to play and for my feline furry friend(s) to wiggle their tail. Of course, I'll always recommend incorporating On2Pets cat furniture because it's stylish and our comfort is everything if you want us to behave.
Tip 2: Staying calm is key for pawesome first impressions.
Ask the child to sit down, be patient, and wait for my feline friends to make the first move. Make sure an adult is always present to teach the child how to care for the cat, use proper playing rules, and remind them to always be gentle. If possible, start the interaction using a cat toy like my Interactive Cat Toy Collection instead of the child's hands.
Tip 3: Scheduling daily playtime together
Allow your child to feed the cat. This is a highly positive bonding experience that teaches them both respect and responsibility. Involve the child in cat chores, such as cleaning up after them and teaching them how to groom correctly. You'll be surprised how moments like these develop trust. 
Tip 4: Teaching your child when it's ok to play with your cat
If the child is older, teach them to look for certain poses and expressions that express your cat's current mood. Like our human owners, we have our good and bad days too. So, teaching them to understand your pet's body language and the sounds they make when uncomfortable will make all the difference. Because at the end of the day it's all about safety.
Extra tip:
It's important to use positive and reassuring language with the child to help them have a purr-ific experience and love their meow best friend. These tips have helped me whenever I meet a new child in the On2Pets family.
If you've introduced your cat to a new friend and want to share your story or have helpful tips, please leave us a comment. I like story time; it keeps me entertained.
Love, Molly