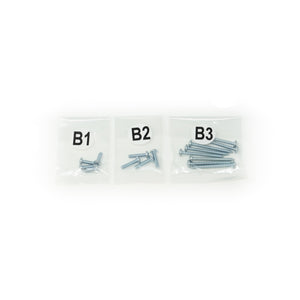 ---
ATTENTION FELINE FRIENDS!

GET 15% OFF!
By filling out the form following the link below!
*Terms and Conditions Apply
Can't find the bolt and screws for your On2Pets cat canopy shelves, no worries, replacements are available for purchase. Did you recently move and lost the hardware for your cat's favorite dwelling spot, we got you covered. Ensure the structural stability of your cat shelves and your cat's safety by having all the necessary hardware. 
BUYER NOTICE: This replacement hardware pack is compatible with all of the On2Pets cat canopy shelve variations. If your not sure this is the right replacement for your cat shelves, please contact us before purchasing this item and we'll be more than happy to assist you.
Each set includes four (4) B1 bolts, four (4) B2 bolts and eight (8) B3 screws, compatible with the all cat shelve models. 

Replacement hardware packs are only compatible to our cat shelves, not intended for other uses.

Easy to assemble . Tools required.

Assembled with love and care in the USA. We utilize a combination of state-of-the-art CNC machines and the skilled hand of local artisans to manufacture all of our products.

Constructed with pet-safe and non-toxic materials you can trust to provide a safe environment that fosters activity and comfort for your cat.
All orders placed on this Site are subject to product availability and will be shipped to the terms below. Shipping and handling charges are between $30.00 and $55.00 depending on destination and average in-transit time (5-8 business days). Shipping and handling will be calculated after applicable discounts and before sales tax.

As soon as your order ships, you will be provided with a tracking number via email. We do not guarantee any specific delivery dates or times. In the rare event that your order never arrives, you must send us email/phone notification with the lost items within 30 days of receipt of the shipping confirmation email.

If for any reason you are not happy with your selection, you can exchange an item for another item, or return it for a credit or refund (minus the shipping, handling, gift wrap and other charges), subject to the following terms and limitations. If the reason for your return is due to product malfunction due to failure of parts or workmanship please address to Product Warranty.

See our Shipping, Return, and Refund policy.