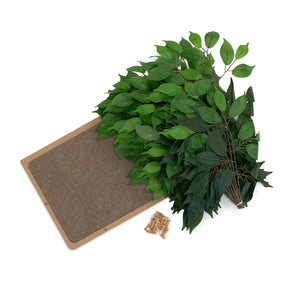 ---
ATTENTION FELINE FRIENDS!

GET 15% OFF!
By filling out the form following the link below!
*Terms and Conditions Apply
Renew and refresh your On2Pets Natural Cat Canopy Shelves with a set of new perches for your kitty to hide, lurk and play behind the lush foliage and relax atop the carpeted surface.
BUYER NOTICE: These replacement perches are only compatible with the 5ft Natural Cat Trees that have the 3-rod system. If your cat tree has the 2-rod assembly system, please contact us before purchasing this item as replacements for our other models are available upon request.
All orders placed on this Site are subject to product availability and will be shipped to the terms below. Shipping and handling charges are between $30.00 and $55.00 depending on destination and average in-transit time (5-8 business days). Shipping and handling will be calculated after applicable discounts and before sales tax.

As soon as your order ships, you will be provided with a tracking number via email. We do not guarantee any specific delivery dates or times. In the rare event that your order never arrives, you must send us email/phone notification with the lost items within 30 days of receipt of the shipping confirmation email.

If for any reason you are not happy with your selection, you can exchange an item for another item, or return it for a credit or refund (minus the shipping, handling, gift wrap and other charges), subject to the following terms and limitations. If the reason for your return is due to product malfunction due to failure of parts or workmanship please address to Product Warranty.

See our Shipping, Return, and Refund policy.